Application Security Management
Snyk continuously monitors your application's dependencies
and lets you quickly respond when new vulnerabilities are disclosed.
Quick start to test projects
Find vulnerabilities
Map the full application dependency tree
Find vulnerabilities in all open source dependencies
Use CLI, integrations or the API to add projects to be tested
Continuously test for newly disclosed vulnerabilities
Dependencies are tested against Snyk's comprehensive vulnerability database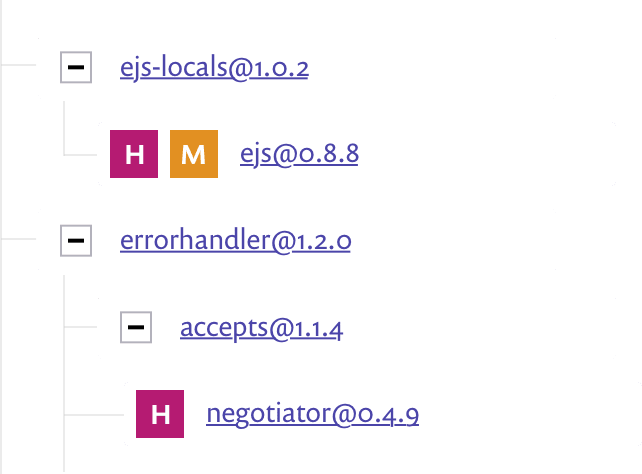 Fix your vulnerabilities
Single click fix - generate a fix PR from UI, CLI wizard
Upgrade - Automatically calculates the minimal direct dependency version upgrade needed
Precision patch - Use patches backported by Snyk security team to fix when direct upgrade is not available or it'll take time to have upgrade implemented
Automatic fix for new vulnerabilities - Automatically generate fix pull requests for newly discovered vulnerabilities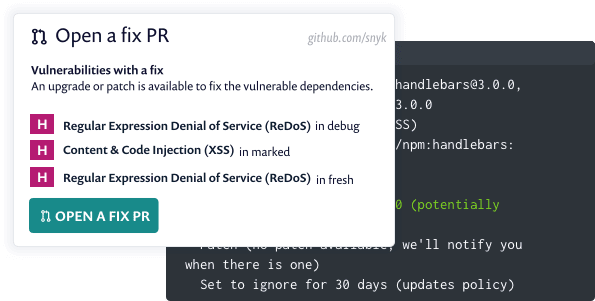 Monitor throughout the SDLC
Protect the full application lifecycle from code development to deployed applications. seamlessly integrate to your development tools, making DevSecOps a reality.
Source code - Integrate with GitHub, BitBucket or GitLab to continuously test your code, testing every commit
CI/CD - Integrate with Jenkins, Teamcity, Travis and more to test every application being built, keeping your production safe
PAAS and serverless - Connect to Heroku, Cloud Foundry, AWS Lambda and others to validate your deployed production applications are vulnerability free
Prevent
Secure development - Provide errors to the developer in IDE while coding on any new vulnerable dependency, offer fix
Secure source code - Pull requests to fail checks on new vulnerable dependency addition
Secure Build - Fail CI builds if they introduce new vulnerable dependencies, policy based

Alert
Get alerted when newly disclosed vulnerabilities affect your projects.
Email and Slack notifications for new vulnerabilities and fixes
Automatic GitHub pull requests to fix the new vulnerability
Comprehensive information and remediation guidance for vulnerabilities