Snyk for Enterprise Security
Regain visibility into open source risk
and empower your developers to address it.
Schedule a demo
Trusted by top organizations
Find vulnerabilities
Map the full application dependency tree
Find vulnerabilities in all open source dependencies
Use CLI, integrations or API to add projects to be tested
Continuously test for newly disclosed vulnerabilities

Dependencies are tested against snyk's
 comprehensive vulnerability database
Schedule a demo now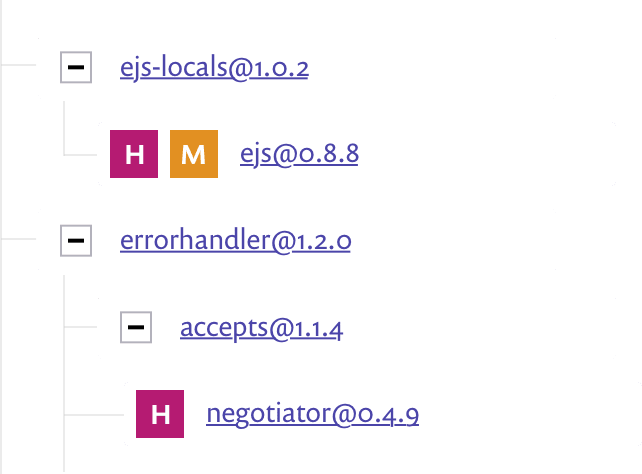 Reports
STANDARD PLAN AND UP
Visibility  –  View the state of all your security vulnerabilities and license issues in one place, with an overview optimised for displaying on a big screen.
Accountability  –  See how quickly your team addresses issues.
Auditable  –  An inventory of all the dependencies used in your projects that you can export as a CSV.
Schedule a demo now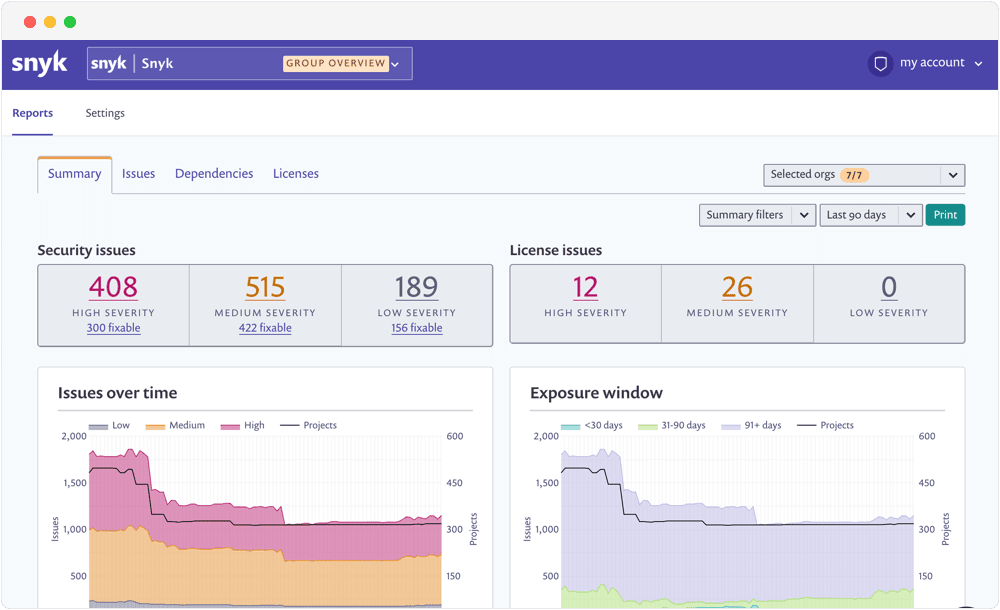 Licenses
STANDARD PLAN AND UP
Review compliance  –  Get an inventory of the licenses used in your projects and their dependencies.
Stay compliant  –  Prevent problematic licenses from being introduced when a GitHub pull request is raised
Custom Policy  –  Create a bespoke license policy for your organisation. Set the severity level of specific licenses and get alerted when a project includes a problematic license
Schedule a demo now
 

Team flexibility –

Set up areas for your teams to focus on the projects relevant to them

Superpowered reports –

Get an overview of your vulnerability status across all of your organisations

Quick filters –

Save filters in your reports so you can quickly access the data you care about
Schedule a demo now
Issue Tracking
PRO PLAN AND UP
Issue lifecycle management

-Integrate Snyk to your issue management tool of choice, manage Snyk issues with your standard process

Jira integration –

Triage security vulnerabilities and license issue in Jira with your team

Webhook integration –

Connect Snyk to any notification system using a generic webhook integration
Schedule a demo now
API
STANDARD PLAN AND UP
Watch your GitHub repositories automatically for security issues Add Snyk to your Continuous Integration and Deployment process Modify the Snyk policy to make the integration work for your team
SSO
PRO PLAN AND UP
Take advantage of existing identity management systems to sign in to Snyk for deeper integration to group and organization membership and role-based access. Snyk can integrate with any SAML-based SSO or ADFS.